Description
Up for grabs is a Digidesign Mbox 2 Pro!
$50 cash money in the Orlando area.
This interface worked like a champ for years and never gave me trouble.
The only issue is that it's no longer compatible with the operating system on my imac, so I bought one that works with my computer and need to find a new home for this one. If you are interested in this, please make sure to check your system and see if it can power this sweet piece of machinery!
The original firewire cable still works and I have the disks it came with so the instruments and plugins listed below are included as well.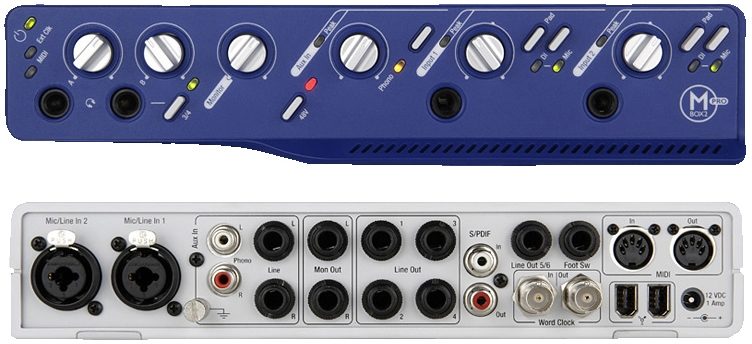 All the info you need, from Sweetwater: 
https://www.sweetwater.com/store/detail/MBox2Pro–digidesign-mbox-2-pro
Digidesign Mbox 2 Pro Features at a Glance:
Award-winning Pro Tools LE recording, editing, and mixing software
Professional sound quality
Powered by FireWire or included power supply
Supports up to 24-bit/96 kHz resolution
4 analog inputs (2 XLR/1/4″ TRS combo jacks & 2 1/4″ TRS jacks)
6 analog outputs (1/4″ jacks)
2 instrument DI inputs on the front panel
2 channels of S/PDIF digital I/O (RCA)
Built-in phono preamp input (RCA) for direct turntable connection
1 MIDI input and output (16 channels in/16 channels out)
MIDI Time Stamping (MTS) support for superior timing and accuracy
BNC word clock I/O
Low-latency monitoring
Dedicated studio monitor outputs with volume control
2 stereo headphone outputs with independent volume controls
48V phantom power for condenser microphones
Even more info at Sound On Sound: 
https://www.soundonsound.com/reviews/digidesign-m-box-2-pro
Included Virtual Instruments and Audio Content:
Boom drum machine and sequencer
DB-33 tonewheel organ emulator with rotating speaker simulation
Mini Grand acoustic grand piano
Vacuum monophonic vacuum tube synthesizer
Xpand!2 multitimbral synth and sample workstation
Structure Free sample player (RTAS)
FXpansion BFD Lite acoustic drum module
8GB of loops from Big Fish Audio
M-Audio Torq LE DJ Software
Included Bomb Factory Plug-ins:
BF76 Compressor
BF Essential Clip Remover
BF Essential Correlation Meter
BF Essential Meter Bridge
BF Essential Noise Meter
Included Effects, Sound-Processing, and Utility Plug-ins:
1-Band EQ III
4-Band EQ III
7-Band EQ III
AIR Chorus
AIR Distortion
AIR Dynamic Delay
AIR Enhancer
AIR Ensemble
AIR Filter Gate
AIR Flanger
AIR Frequency Shifter
AIR FuzzWah
AIR KillEQ
AIR Lo-Fi
AIR MultiChorus
AIR Multi-Delay
AIR Nonlinear Reverb
AIR Phaser
AIR Reverb
AIR Spring Reverb
AIR StereoWidth
AIR Talkbox
AIR Vintage Filter
Celemony Melodyne Essential
Chorus
Click
Compressor/Limiter
D-Verb
DC Offset Removal
De-Esser
Delay
DigiReWire
Dither
Duplicate
Eleven Free
Expander/Gate
Extra Long Delay II
Flanger
Gain
Invert
Lo-Fi
Long Delay II
Maxim
Medium Delay II
Multi-Tap Delay
Normalize
Ping-Pong Delay
Pitch
Pitch Shift
POWr Dither
Recti-Fi
Reverse
SansAmp
Sci-Fi
Signal Generator
Short Delay II
Slap Delay II
Time Compression Expansion
Time Shift
TL AutoPan
TL InTune
TL MasterMeter
TL Metro
Trim
Vari-Fi